Know Before You Go
Preparing for your A.T. adventures
January 21, 2022
Whether you are planning for an overnight trip or all 2,000+ miles of the Appalachian Trail (A.T.), we've put together a series of tips and guides to help you plan and prepare for your next visit to the Trail.
Below are some of the basics you'll need to consider before stepping foot onto the A.T. itself.
---
Know Before You Go
More than any piece of gear, being prepared with the knowledge and skills you need is essential for a safe and enjoyable hike.
Learn the basics
Visit our Hiker Resource Library, a one-stop resource for A.T. hiking knowledge. With gear lists, proper food storage techniques, Leave No Trace principles, Trail safety tips and more, you'll have the know-how to start your hike on the right foot.
Photo by Neely Lawson
Monitor your start date in ATCamp
At ATCamp.org, you can monitor your start date as it approaches and keep track of how many other hikers plan to begin their adventures with you. Consider adjusting your start date if the number of registered hikers goes over 50. If your plans change, you can cancel or edit your registration and open your spot for another hiker.
Get the permits you'll need on the Trail
While permits are not required for most of the A.T., there are three locations on the Trail that do.
Great Smoky Mountains National Park (NC/TN) – $4/person per night, or $20 for thru-hikers*.
These permits must be obtained in advance of your visit and can be obtained up to 30 days prior to your arrival. *Note that starting March 1, 2023, permits will increase to $8/per person per night or $40 for A.T. thru-hikers. In the park, hikers are required to hang food at night from the provided bear cables at shelters and campsites. To hang your bear canister, put it in an empty pack and hang that from the cables. Never tie a rope to your canister – this could allow a bear to carry the canister away.
Shenandoah National Park (VA) – No fee required.
Permits can be acquired in advance or at a Trailside kiosk when entering the park.
Photo by Louis Mason Photography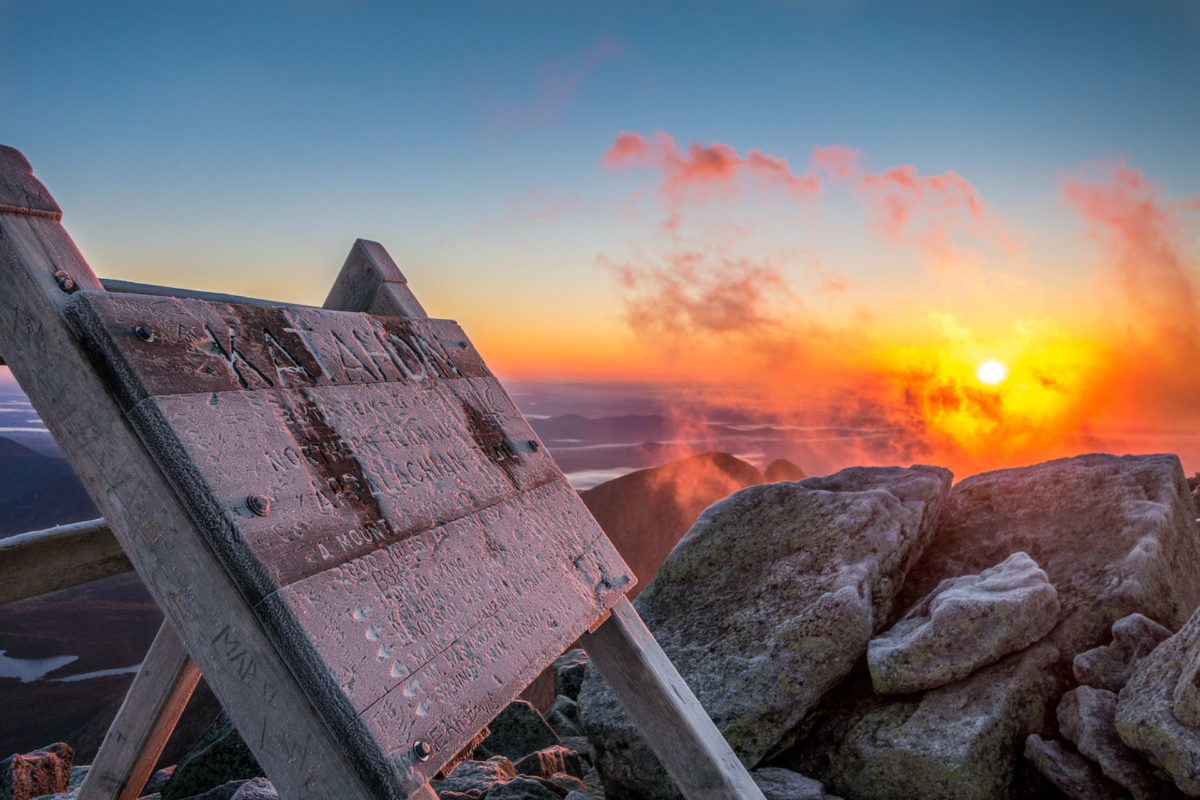 Baxter State Park (ME) – No fee required.
A permit is required for long-distance hikers to summit Katahdin, which can be obtained at Katahdin Stream Campground. Be sure to finish well at Baxter State Park.
Photo by Michael "Marathon" Rosenberg
Plan and Prepare
Planning ahead and preparing for a variety of circumstances helps make you ready to tackle the Trail's challenges.
Trail Updates
Keep up-to-date with the latest alerts and conditions on the A.T., including severe weather notices and emergency Trail closures.
Photo by Greg "Weathercarrot" Walter
The 10 essentials
Beyond the "big three" — your backpack, sleep system (sleeping bag, pad, etc.) and personal shelter — make sure to bring each of the following on your journey.
• Navigation: The A.T. is clearly marked with painted white blazes, but you should always have a way to check where you are, where you're going, and the terrain to expect. This is especially important in designated wilderness areas and above treeline where navigation may be more difficult. Digital maps and guides are useful and convenient, but be sure to carry a backup map and compass (and know how to use them) in case of an emergency or dead phone battery. Detailed guides and maps can be purchased from our partners at Mountaineers Books.
• Insulation: Weather conditions on the A.T. can change quickly, especially at higher elevations. Make sure you have the clothing you need to stay warm. For those starting a northbound thru-hike in March, don't send your winter gear home until you are north of Pearisburg, Virginia. Southbounders should keep their cold weather gear until they are through the White Mountains of New Hampshire.
• Hydration: Whether you use bottles or a full hydration system, have the capacity to carry at least two liters of water and a way to purify it.
• Nutrition: Pack enough food to last you until your next resupply, plus some extra in case an emergency or rough weather keeps you on the Trail for longer than expected.
• Illumination: It gets dark out there! Make sure to have a headlamp or flashlight, plus extra batteries.
• Items for the elements: Sunglasses, sunscreen, insect repellent, and a sun hat can make your trip significantly more enjoyable and help protect you from sunburn, bug bites, and tick-borne illnesses.
Bathroom kit: While most shelters and many campsites have privies available for you to use, always be prepared for when nature calls.
Pack compostable toilet paper, a trowel, hand sanitizer, and a resealable plastic bag. Keep your kit accessible while hiking, and make sure to follow Leave No Trace principles when digging a cathole.
Personal first aid kit: From scrapes and scratches to significant injuries, a first aid kit is essential for your personal safety.
Small emergency kit: Be ready for some of life's unforeseen challenges with some simple-yet-effective solutions, such as duct tape, rope/paracord, a knife, a whistle, a repair kit for your camp stove and sleeping pad, and needle and thread.
Appropriate footwear: Whether you choose boots, trail runners, or something else entirely, select shoes that are broken in, supportive, and comfortable, which can prevent hot spots, blisters, and more significant foot injuries.
Alternative Thru-Hikes
(a.k.a. "Flip-Flop" Thru-Hikes)

Have you considered an alternative "flip-flop" thru-hike? Along with reducing overcrowding, a flip-flop hike can also offer milder weather at the beginning of your hike and more solitude. Check out some suggested flip-flop itineraries at appalachiantrail.org/flip-flop.
Report an Incident
While the Appalachian Trail is a relatively safe place to visit, that does not mean that there are not potential dangers while you are hiking or camping. If you see something, say something — this will help us keep the A.T. as safe as possible for our visitors.
We hope this information has helped you become even more prepared for your upcoming A.T. adventure!
Happy Trails!
Thank you for your continued support and the love you express for the Trail!