Camping on the Appalachian Trail
Whether you're pitching a tent in a designated campsite or choosing dispersed camping (where allowed), minimize your impacts and know the camping regulations on the Appalachian Trail (A.T.).
All overnight hikers should carry a tent or other lightweight portable shelter.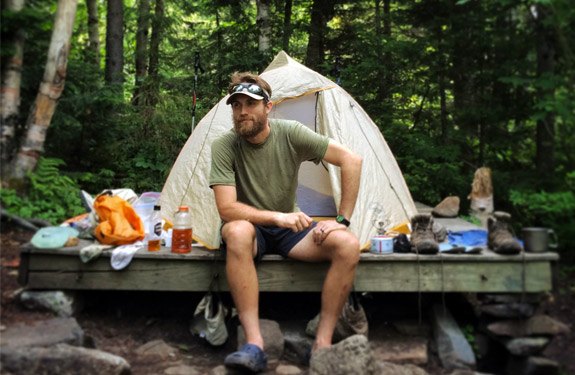 Backcountry camping is available at about 125 designated camp sites and is also allowed in the immediate vicinity of most of the 260 shelters along the Trail. Since almost all shelters are available on a first-come, first-served basis, you cannot count on space in shelters. During the pandemic  hikers are advised to avoid them due to the difficulty of social distancing and the possibility of contaminated surfaces; many are also closed. The distance between shelters and campsites varies significantly so it is important to always carry a map. Guidebooks and apps may also list overnight sites.
Designated campsites along the A.T. are usually very simple. They have relatively flat areas where you can pitch a tent or other portable shelter. In a few areas, especially in New England on steep terrain or where soil is thin, wooden platforms may be provided. A natural water source such as a spring or creek is usually nearby. Unlike shelter sites these sites often do not have privies; info about how to properly dispose of waste can be found here. Designated campsites are generally available on a first-come, first-served basis, except in the Great Smoky Mountains National Park.
Dispersed camping, which means campers have the freedom to select the location of their campsite, is allowed in some areas of the A.T.  Dispersed camping, sometimes called "stealth camping," requires more time and effort and skill to find a comfortable and low-impact site than using a designated site, but can offer solitude and other advantages. Dispersed camping opportunities are most abundant on the the A.T. in Georgia, North Carolina, Tennessee and Virginia on US Forest Service lands. It is prohibited in many areas, so it's important to know local regulations. See below for more information.
Backpacking hammocks can offer more flexibility in choosing a site and can be low-impact in areas where dispersed camping is allowed. However, in the more typical scenario of a designated shelter site or campsite, it may actually be harder to find a spot where suitable trees are spaced the right distance apart. Hikers using hammocks in designated overnight sites should hang their hammocks in areas already bare of vegetation and always use wide  "tree-saver" type straps to protect trees from damage. For some basic tips on hammocking, click here.  To learn about the pros and cons of using  a backpacking hammock on the A.T., click here.
Hazard Trees: Due to an increasing number extreme weather events and invasive pests that damage or kill trees, be very careful in choosing places to camp, including at or in shelters. Look up and around out to a couple of tree lengths in distance to be sure your shelter or campsite is not threatened by broken limbs known as "widowmakers" or leaning, dead, diseased, or storm-damaged trees.
Food Storage: Storing your food properly to keep your food and you safe from bears and other wildlife is a critical component to best camping practices. Visit our Bear Safety page and our Food Storage Hiker Info video for tips!
---
Campfire Safety
For as long as there has been camping, there have been campfires — not only for warmth, lighting, and cooking, but also for group bonding, storytelling, and other social activities. However, campfires that are not built or cared for properly can cause devastating wildfires that may impact the landscape for decades. Before ​setting up camp, know how to build campfires responsibly and if campfires are permitted where you are camping:
Keep campfires small, and burn only small pieces of dead and downed wood gathered from the surrounding environment (leave the hatchets and axes at home). A good rule is to only burn logs no thicker than your wrist.
Use only existing fire rings at officially designated sites whenever possible. If an established fire ring is not available, choose areas that are already impacted and don't have heavy vegetation that could potentially catch fire. Also be sure to clear away any dry leaves, twigs, or pine needles.
Use camp stoves for cooking — this minimizes the chances ​of ​sparks flying into the environment.
"Stealth camping" means leaving no impact on the environment — this means no campfires.
Do not burn trash — this can cause permanent damage to the environment, leach chemicals into nearby water sources, and attract wildlife.
Be aware of dry/drought conditions and local burn bans. If it has not rained recently, the chances for wildfires will be significantly higher. Do not build a fire during these conditions. Check the Trail Updates page for more information.
Keep in mind that campfires are not permitted on some parts of the Trail.  Many areas along the A.T. restrict fires to designated sites only or prohibit fires altogether. A chart listing regulations for fires and camping can be found by clicking here.
Most campfire-based wildfires develop because the campfire was not completely extinguished. Even if there is no visible sign of burning (smoke, glowing embers, etc.), a fire may reignite if there is still heat beneath the surface.
To properly put out a campfire, follow these steps:
Carefully 'knock' the fire down with a stick (or metal trowel) until only small or no flames are present.
Mix the hot coals, underlying dirt, ash, and inorganic debris with the stick/trowel while steadily trickling water over it.
Place hand, palm down, over the mixture without touching it to test for heat. If it's still hot, repeat step 2 until it's no longer hot.
Once the mixture is no longer too hot to touch, continue to trickle water over it while carefully and methodically stirring the mixture until it's cold to the touch.* If you encounter hot spots, douse the ashes with additional water. If you used a stick to stir the mixture, make sure it's also cold.
Once the fire is completely out, use the remaining water to rinse your hand.
*When dealing with fire in any way, always use the highest degree of caution and care.
Though campfires can provide many benefits, they require time, effort, and knowledge to maintain. There are many other ways to meet your needs when in the outdoors:
A good layering system of moisture-wicking and insulating materials will provide warmth and comfort as well as — if not better than — a campfire could.
A headlamp will make moving around your campsite safe, simple, and hands free.
A small lantern can provide the atmosphere and camaraderie of a fire but on a smaller scale.
A flashlight or headlamp tucked under a clear Nalgene bottle full of water provides an awesome glowing centerpiece for any campsite.
---
Dispersed camping
Set up a dispersed or low-impact "stealth" campsite only where allowed (the most abundant opportunities are on US Forest Service lands in Georgia, North Carolina, Tennessee, and Virginia; in many other areas dispersed camping is prohibited or there may be restrictions. See our Camping Chart below for more details).
Either choose an area where the ground is already completely bare from use by previous campers (an established site) or choose a site with no sign of previous use.
Avoid places that show the beginnings of frequent use—those still have a chance to recover if left alone. Set up tents on durable surfaces, such as dead leaves or grass, well apart from each other and at least 70 paces from water.
Avoid trampling plants and seedlings.
Never build a new fire ring. Only use existing fire rings and keep camp fires small.
Use a camp stove and place it on rock or ground that is already bare.
ATCamp​ Group Registration
If you are hiking with a group (6-10 people) you're encouraged to register your hike in the ATCamp system. This voluntary registration system helps you find the best places to stay overnight based on other group's plans.
Register your group camping trip
Hikers are required to stay at designated campsites or shelter sites in the Great Smoky Mountains National Park in Tennessee and North Carolina, the Triple Crown/McAfee Knob area of central Virginia, and many areas from Harpers Ferry, West Virginia northward.  In areas of heavy use, camping regulations may be designed to concentrate impacts in designated areas to avoid large swaths of the A.T. being devoid of vegetation and areas losing their natural, pristine quality.
Camping regulations vary widely because the Appalachian Trail corridor consists of a patchwork ribbon of many different types of lands managed by more than 75 different agencies. Areas are managed for purposes as diverse as federally designated wilderness, multi-use forests, game lands for hunting, wildlife refuges, watersheds and farmland.