Plan Ahead and Prepare
Don't Feed the Bears
February 4, 2022
Page updated November 17, 2023
We hope your Appalachian Trail (A.T.) hike planning is going smoothly and you are ready to put the seven Leave No Trace principles into practice. In this post, we'll take a look at how you can protect wildlife by properly storing your food while on the Trail.
"Food storage" refers to where hikers keep their food when it's left unattended, especially overnight. Other scented items such as toothpaste, cookpots, utensils, trash, lip balm, etc. should be stored in the same way as your food.
Bears are the primary concern when it comes to food storage on the A.T., though keep in mind that mice and other animals can also get into your food — more than just a nuisance, they can also carry diseases like hantavirus and rabies.
Carrying a bear canister
Many hikers find that the benefits and flexibility bear canisters offer far outweigh the ounces they add to their packs. The ATC encourages all hikers to carry a bear canister because they:
Are the most reliable and effective method of food storage, providing more protection for bears than bear hangs.
Provide hikers with the most freedom in choosing where to camp — you don't have to rely on reaching a certain campsite or finding the perfect tree limb.
Are easy to use.
Protect food from critters big and small.
Bear canisters are seasonally required for camping between Jarrard Gap and Neel Gap in Georgia from March 1 to June 1.
Remember, improperly stored food may lead to a bear becoming habituated to human food. Whether a bear is fed intentionally or unintentionally, habituated bears may become a threat to humans and their property and must often be removed from the area or euthanized. A fed bear is a dead bear.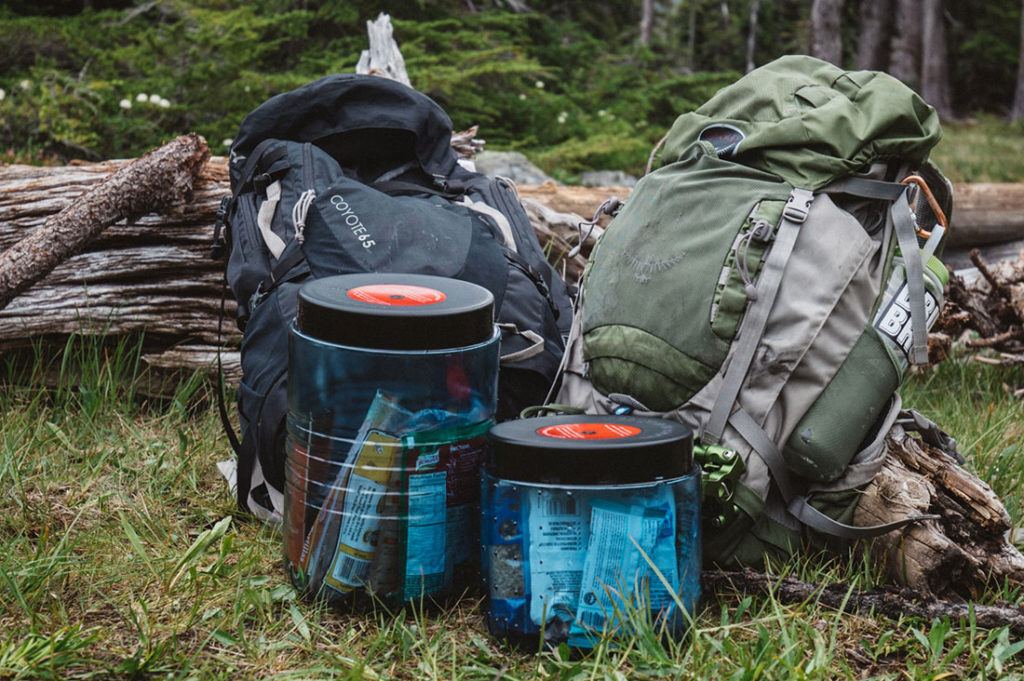 Bear canister lending program
Want to try out a bear canister before buying one? The ATC coordinates bear canister lending programs in Georgia and Vermont, giving you first-hand experience with their benefits.
Food storage tips
Storing your food properly means that you can keep your food away from hungry critters and still satisfy hiker hunger with tasty treats. Here are some quick food storage tips for your upcoming A.T. hike:
Cook and eat your meals 200 feet away from your tent or shelter so food odors do not linger.
Keep your bear canister closed and locked except when adding or removing its contents.  Some bears have learned to wait until a canister is open and unguarded to rush in and grab food.
Where bear boxes, poles, or cable systems are provided, use them — but don't rely on them. Many overnight sites do not provide food storage, or they could be full or damaged/inoperable.
Never attach ropes to a bear canister — doing so can cause canisters to be carried away by bears who otherwise wouldn't be able to grip the smooth sides. If you need to hang your canister (like in Great Smoky Mountains National Park where hikers are required to use the provided bear cables), place your canister in an empty pack and hang that.
If no other food storage options are available, bring the supplies needed for a proper bear hang using the PCT hanging method.
Pack out all food and trash. Never burn food or food containers.
Do not leave food or trash unattended unless properly stored, including while you fetch water, visit the privy, etc.
Avoid becoming complacent when storing your food. Just because there have been no reports of bear activity in the area does not mean they are not present — bears are common in every state through which the A.T. passes.
---
What to do if you encounter a bear
While moseying along the A.T. to your next snack break or campsite destination, you may encounter a bear near (or even on) the Trail. Seeing a bear while hiking can be an exciting, awe-inspiring experience, but it is important to maintain your distance and allow them to move on through. Here are some tips in the event of a bear encounter:
Do not approach the bear.
Do not allow the bear to approach you — put distance between you and the bear by changing direction or backing away slowly.
If the bear is at a distance and notices you but continues its natural behavior, no action is needed on your part. Proceed while continuing to observe the bear for a change in behavior.
If the bear follows or approaches you, stand your ground and:

Talk loudly or shout at the bear.
Make yourself look as big as possible; act together if you're with others.
Throw rocks or sticks at the bear.
Don't run from the bear.
Report a Bear Encounter
Help land managers by reporting bear encounters to the ATC using our Bear Encounter Report form. Bear incidents are listed on our Trail Updates page.
Photo by Jesse
Catch up on our hiker preparation series